&nbsp
Welcome to our Tea Ceremony section

Chanoyu, The Japanese tea ceremony:
The essence of the Japanese tea ceremony is harmony. Every move or every component about the ceremony brings out the serenity of the whole. The host tries to keep to the natural state of things as much as possible. for example, she might place some leaves in the garden stones in order to preserve the natural beauty of the garden.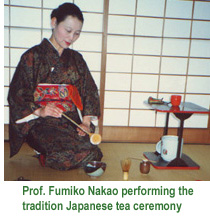 The Japanese tea ceremony had its origins 700 years ago when Zen Buddhist monks began to explore this art form. However, this was only the rudimentary beginning. It was only 500 years ago that founder Sen No Rikkyu began to hone the simple tea ceremony practiced by the monks into a ritual. He transformed the ceremony to one of humility, simplicity, rusticness as well as self-cultivation. This is epitomized by the simple setting of the tea house e.g. a two mat tea space, chashitsu.
The guests kneel down on the mat and wait to be served by tea. They face the kama or the kettle and the brazier. The decoration of the room is in simple taste with some basic flower arrangement or calligraphy. The host arranges the tea tools in a ritualistic manner that reflects tea values of harmony or wa. The calligraphy scroll may also expound some values of the tea ceremony such as simplicity.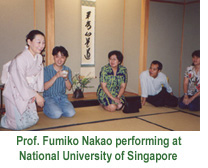 Leaving their worries and other worldly affairs aside, the participants in the tea ceremony began to drift into the spirit of the tea ceremony itself. When the host cleans the tea tools, the guests began to be aware of the serene setting.
Then the ritualistic and prescribed movements starts. The bamboo whisk then starts to mix the contents i.e. tea powder and water in the tea bowl. The same bowl is shared by everyone. The guests raises the bowl and then take sips from it and drinks all the liquid. The last sip is a definitive strong one and then he uses his fingers to wipe the edge of the mouth of the bowl where he/she had placed his/her mouth. The guests also compliments, ask questions and admire the tea tools/ tea bowls.
The guests then depart to reflect on their experience of the tea ceremony




&nbsp
&nbsp
Proceed to :
Chinese Tea Ceremony
Read about the:
The art and essence of Japanese tea
History, benefits and ingredients
Equipment for Japanese tea ceremony
The founder of the
Japanese tea ceremony

View our picture gallery:
Japanese Tea Ceremony Presentation
Preparation Room For Japanese Tea Ceremony

Online Shop:
Buy Japanese Tea Ceremony Items



&nbsp