Japanese Ceramics Collections


The Japanese have been collecting Chinese ceramics for years. It reached a peak during the 1920s when the fever for the best pieces of Chinese porcelain was on. Many of the Chinese ceramics pieces found in Japan are thus a result of inheritance which has passed down intact through the generations. This process is known as densei-hin. Japanese have been very careful to ascertain the sources of these porcelain pieces and would restrict displays to mainly inheritance and excavated pieces.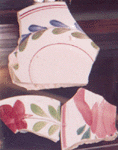 It is also important to note that Japanese displays of Chinese ceramics have been made to conform to Japanese tastes and aesthetics. The earliest evidence of Chinese influence on Japanese ceramics would be the various objects made in Han dynasty being found at Yayoi sites (second to third century AD). This period is the earliest traceable period that Chinese ceramics was found to be a link between Japanese and Chinese cultures.
By the 4th and 5th centuries, there was already a steady flow of Chinese ceramics into the country. During the Nara period, Chinese ceramics was first recorded in Japanese documents. The famous sancai or three colour glazed wares were found for the first time in Japan during this period. This was also te peak of Tang dyansty in China, considered by many to be the peak of civilization in Chinese history, culture and the arts.
Many of these wares were simple and many were for daily use. Thus, they have not drawn much attention from the Chinese collectors, museums or antique dealers. However, due to the rarity of sancai pieces now, the early examples of Tang dynasty wares have rose in importance and also becoming important evidence of cultural exchanges between the two countries. Many of these pieces were excavated in Kyushu near Fukuoka. This is not surprising considering that Kyushu was the traditional gateway for Chinese and Korean cultural exchanges with Japan. It is also the closest geographically.